Product Description
Surgical Cotton Sport Tape
Surgical Preventable Strains and Sprains Tape advantage
1.ZIGZAG EDGES:
Keep your energy for the sport and don't fight with your tape roll! With the zigzag edges, even a child can tear our tape by hand.It is convenient to use.
2.NO GLUE RESIDUAL:
We use a unique mix of zinc & oxide glue that melted at a magic temperature creates the optimal adherence without leaving residue. YOU WON'T GET ANY GLUE RESIDUAL.
3.SUPERIOR TACKINESS AND UNWINDS :
So easy to handle, our tape protects injured areas and with its stable stickiness it helps prevent sprains with superior support.
4.BREATHABLE AND RISK FREE FOR YOUR SKIN:
5.Made from 100% vegetal cotton fiber, the tape let your skin breathe.
6.Use in all active sports and medicine to help prevent injuries or speed up recovery.
· Base material:Cotton
· Adhesive: zinc oxide glue
· Color: colorful
· Size: Length:5m,9.14m,etc...
width:2.5cm,5cm,7.5cm etc....
· Note: Personalized specifications are possible at customer's request.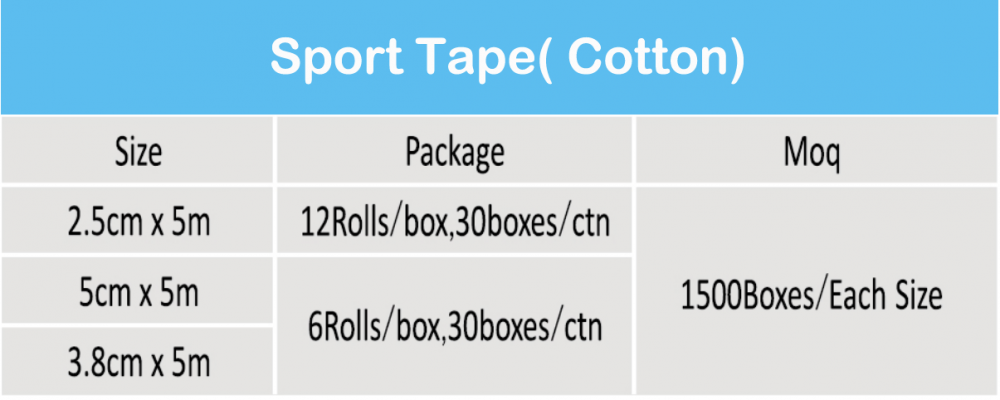 Instructions:
clean your skin before use,tear the tape with required length and stick to the desired part,provides a sports protection.
Intend use:mainly used for general sports protection.